Das ist ein Thema, das nicht ganz so leicht zu beackern ist: Gedenk- und Trauerseiten online. Mit zaghaften Versuchen wagen sich einige Verlage inzwischen an das Thema ran und setzen dabei auf Angebote verschiedener Dienstleister, wie dem englischen iAnnounce.
Eine optisch ansprechendere Lösung bietet die vrsmedia GmbH aus Bremen, die inzwischen knapp 30 Zeitungstitel mit Trauerportalen "out of the box" versorgt und seit Herbst auch mit der Südwestdeutsche Medien Holding GmbH gut im Geschäft ist (www.stuttgart-gedenkt.de, www.trauer.sueddeutsche.de).
Die Gründer von vrsmedia haben selbst mit www.infrieden.de ein Trauerportal aufgebaut und in Zeitungsverlagen einen reichweitenstarken Partner für die Zweitvermarktung ihrer Softwarelösung gefunden: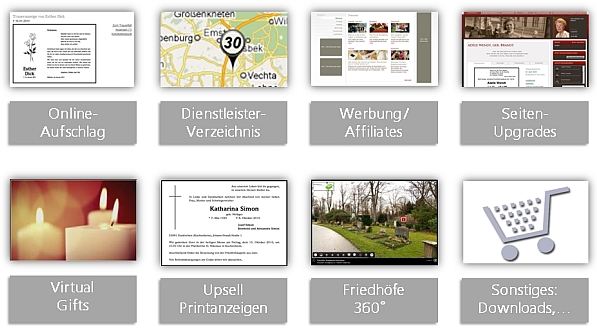 Die Trauerportale setzen als Erlösmodelle auf Branchenbücher, Affiliate finanzierte Ratgeber-Artikel, Community-Produkte (Kondolenzkerze 0,99 Euro), Premium-Angebote und natürlich verknüpfte Print-, Onlineanzeigen.
Spannend ist, dass die Angebote auf vertraute Community-Elemente setzen: In der Sidebar laufen "Newsstreams", zu welcher Anzeige als letztes kommentiert wurde oder wo die letzte Kerze entzündet wurde. Besucher können an die "Pinnwand" des verstorbenen schreiben und außerdem ist es möglich den Verstorbenen eigene Profile anzulegen und diese auch aufzuwerten: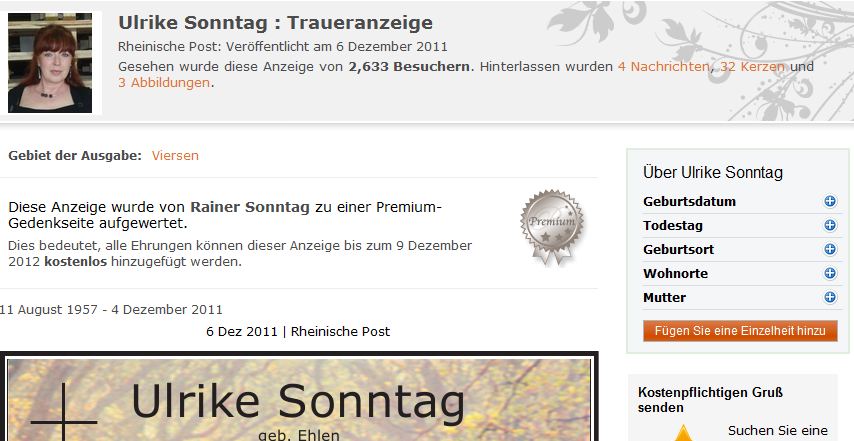 Leider passiert auch bei diesem Thema ähnliches, wie den Groupon-Ansätzen deutscher Verlagshäuser. Durch die fertigen Dienstleisterlösungen setzt man sich nicht umfassend mit den neuen Konzepten auseinander und die Angebote werden so nur schwer das volle Potential ausschöpfen können.
Weitere Artikel auf netzleser: