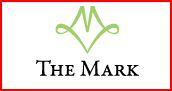 In Kanada gibt es eine interessante Seite, die ähnlich wie die huffingtonpost.com funktioniert (aber zum Glück nicht ganz so unübersichtlich ist). Auf www.themarknews.com versucht das Team eine Art Denkfabrik recht elitärer Kanadier aufzubauen. Unter den Autoren sind ehemalige Botschafter, Professoren, Firmengründer, Wirtschaftsberater oder Musiker, wie z.B. Melissa auf der Maur von den Smashing Pumpkins. Über die komplette Welt verteilt haben sie nur eines gemeinsam: sie sind Kanadier.
Die Autoren schreiben auf The Mark nur über die Themen, die sie auch beruflich betreuen. Hauptberufliche Journalisten sucht man also vergeblich – hat dafür aber Autoren, die sich mit dem jeweiligen Themengebiet sehr gut auskennen. Mehr als 600 "freiwillige" Schreiber konnte The Mark seit Mai 2009 für sich gewinnen. Auf der Seite geht es also weniger um tagesaktuelle News,  sondern eher um hintergründige Analysen und Meinungen:
Instead of focusing on facts, The Mark emphasizes analysis. What are the implications of the facts? What trends are emerging? Who are the personalities behind the headlines? What should be done? The Mark's expert contributors are on the ground making the decisions that ultimately become news; they are in a better position than anyone to answer these questions. The value is in the analysis: it's not what you know, it's what you think about what you know.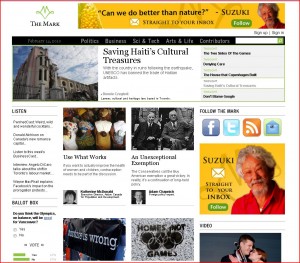 Viel Geld zahlt The Mark den Autoren allerdings nicht – zumindest hab ich darüber nichts gefunden. Die Betreiber der Seite bieten lediglich eine Plattform, auf der sie die Texte vertreiben und mit einem rund 20-köpfigen Team redigieren und für die Leser aufbereiten. Für die Autoren bietet sich so die Möglichkeit, sich Reputation und Glaubwürdigkeit für ihr eigenes Business aufzubauen (oder für (bezahlte) Vorträge und Veranstaltungen gebucht zu werden).
Jetzt aber zum eigentlichen Punkt: Das Geschäftsmodell von The Mark
The Mark behauptet, sich zukünftig selbst zu finanzieren. David Ceolin, einer der Hauptinvestoren, meint dazu in der letzten Pressemitteilung – leider etwas verschwommen:
The Mark is building a portfolio of content-based services that have scalable, sustainable revenue potential and don't rely on advertising or subscription
Jeff Anders, der Gründer, wird in einem Bericht der montrealgazette.com etwas genauer:
The site aims to make money with ads, content syndication and by organizing live events
Und das kann ich mir bei so einem Modell auch sehr gut vorstellen. Fachvorträge, Workshops und Hintergrundberichte für verschiedene Newspartner versprechen bei The Mark wohl die größten Einnahmemöglichkeiten – neben der ganz klassischen Werbung. Von den Nutzern Geld oder Abogebühren zu verlangen, schließen die Betreiber übrigens aus.
Weitere Artikel auf netzleser: