Die New York Times hat ein eigentlich altes Ding aus dem Ärmel geschüttelt: TimesLimited – Live Shopping der alten Schule. Begrenzte Angebotsmengen für begrenzte Zeiträume. Die Angebotszeiträume sind zwar mit rund einer Woche deutlich zu lange, um den klassischen Live Shopping-Reiz der Verknappung auszulösen aber wahrscheinlich denkt man bei der New York Times nach dem bekannten Irrglauben: Mehr Umsatz durch längere Angebotszeiten.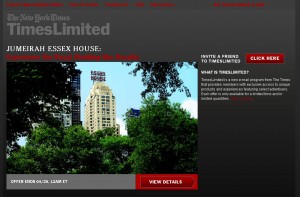 Viel mehr hat der Schritt zum Liveshopping-Konzept überrascht, weil gerade erst die Paywall bei der NYT hochgezogen wurde. Erst User aussperren und dann User getrieben Konzepte aufziehen ist seltsam. Vor allem, weil gegenüber den Werbekunden genau damit argumentiert wird:
TimesLimited has powerful social elements that facilitate users spreading the word across social networks.
Die "powerfull social elements" sind relativ gut versteckte Email-, Twitter- und Facebook-Buttons. Und auch der propagierte Benefit ist nicht mehr als ein schlichter Newsletter:
TimesLimited is an email service that features exclusive Offers from select Merchants. TimesLimited is dedicated to bringing its subscribers access to unique products and experiences. Each Offer is only available for a limited time and in limited quantities. Subscribe today for dining, travel, lifestyle, entertainment Offers and more.
Eintragen kann sich jeder und die Angebote laufen auch ganz normal auf der Homepage.
Spannendes am Rande: Fankonzepte
Das einzig wirklich spannende ist ein Angebot aus dem "Times Knowledge Network": Dort werden Live-Webcast mit Times Journalisten zu verschiedenen Themen Angeboten. Die Preise sind zwar recht happig aber den Gedanken finde ich sehr reizvoll. Durch die Verbreitung im Internet ist die Zuschauerzahl nicht limitiert und für die NYT entstehen kaum zusätzliche Kosten.
Weiter gedacht, ist das ein interessanter Ansatz, um z.B. Fankonzepte aufzuziehen. Exklusive Interviews, Insights, u.s.w. Immer nur exklusiv für die jeweilige Zeitung oder das jeweilige Verlagsnetzwerk. Registrierte User könnten live oder im Vorfeld Fragen einreichen und so das Interview selbst gestalten – einschließlich viel, viel Stolz, wenn die eigene Frage beantwortet wird. Das wird auch 100% im eigenen Netzwerk verbreitet – Social-News mal ganz anders.
Weitere Artikel auf netzleser: